Soft Start
Output frequency:50 / 60Hz
Built in advance microprocessor to make friendly interface with user
Low no load current to save energy
Capable of driving highly reactive & capacitive loads at start moment.
Hardwire AC connection for three phase four wire
LED digital display for the DC input,AC output voltage and output current
Temperature controlled the cooling fan.
2 LED indicators show operation status
3 LED indicators show phase 1,phase 2 and phase 3 working status
High efficiency 88 ~ 93%
Can load both single phase or three phase loading
Accept three-phase unbalance
Protection:
Input high voltage and Input low voltage protection
Low battery alarm
Over temperature protection
Over load protection
Short Circuit protection
Reverse polarity protection
Lack of phase protection
Model No.
NWP25K
Rated Power
25KW
30KVA
Surge Power
>50KW/60KVA
Input Voltage
24V/48V DC
Output Phase Voltage
208V ± 10% or 380 ± 5%
Output Line Voltage
100 / 110 / 120V ± 5% or 220 / 230 / 240V ± 3%
Frequency
50 / 60Hz +/- 0.3Hz
Output Waveform
Pure Sine Wave (THD < 3%)
Efficiency
>88%
Input Voltage Regulation
22-30VDC / 44-60VDC
LED Indicator
Red LED indicates failure, Green LED indicates normal
Protection
Overload, Short Circuit, Reverse Polarity (Fuse), Over Temperature, Low battery, High battery
Operating Temperature Range
0 – 40℃
Storage Temperature Range
-30℃ to 70℃
Cooling
Temperature control the cooling fan
Dimensions(mm)

660X595X217

Package

796X786X432mm 1pcs/Wooden case

Notice:If the load is forward/reverse direction motor, it should be connected frequency controller between the inverter and motor.

Test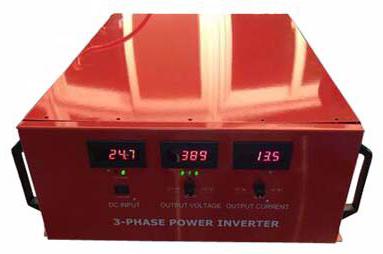 Package